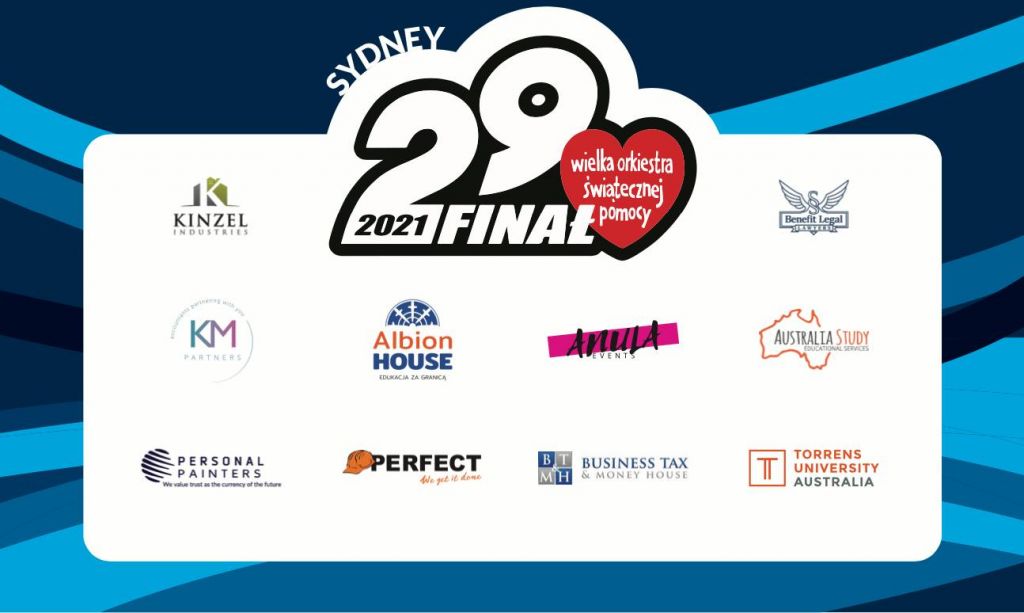 SUNDAY, 10 JANUARY 2021 FROM 11AM AT POLISH CLUB BANKSTOWN
Finał z głową – takie jest hasło przewodnie kolejnej edycji zbiórki organizowanej przez Wielką Orkiestrę Świątecznej Pomocy. Tym razem Fundacja będzie się skupiać na zakupie sprzętu dla laryngologii, otolaryngologii i diagnostyki głowy. Jest to już drugi Finał WOŚP dedykowany laryngologii.STOISKA PODCZAS FINAŁU:
– Siema Kids – warsztaty dla dzieci i młodzieży: kolorowanki, serduszka z wikliny papierowej, masa solna i wiele, wiele więcej
– Siema Szama – smakołyki, ciasta, ciasteczka, bezalkoholowe Mohito, herbata, kawa
– Siema Relax – masaż
– Siema Los – aukcje i losowania
– Siema Photo – polaroidowe zdjęcia + wysyłane na email z Logo WOŚPPośród fantów do licytowania w tegorocznej edycji znajdziecie między innymi:
– Książki, albumy krajoznawcze
– Ręcznie wyrabianą biżuterię
– Gry planszowe
– Torby od My Bit of Oz
– Bon na zajęcia na Trampolinach od TrampoLine
– Ręcznie malowane bombki od Ela's Glass Decorations
– Obraz "Prąd wsteczny" od Kaem
– Książki i maskotka od My Secret Power
-Voucher na warsztaty i zniżka od KJ Art&TrainingZapraszamy wszystkich już 10 Stycznia 2020.
SIEMA!
WOSP Sydney – https://www.facebook.com/wospsydney/
Live Stream 11AM – https://www.youtube.com/channel/UCQCpl7DOndZaarQVOqPIi5Q